Isolation Transformer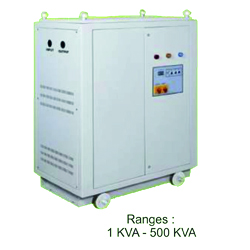 We are the manufacturer and supplier of isolation transformers, control transformers, auto transformers, step up and step down transformer etc. Our range of isolation transformersareavailable with following features and specifications.
Features:
• Very high noise attenuation capacity
• Reduced coupling capacitance
• Lesser leakage current
• Suitable for higher harmonic loads
• Core will not saturate even if the applied voltage is high.
Specifications :
System Connections
Delta/Star or Star/Delta
Ratios
1:1 and 2:1
Regulation
Better than 3.5%
Power Factor
0.8 Lagging to 0.8 Leading
Di-electric Strength
2500V AC for 1Min
No Load Current
Less than 5%
Leakage Current
Less than 20 micro amps
Common mode Attenuation
100 Db
Core
Cold Rolled Oriented
Silicon Steel (CRNGO)
Isolation Transformer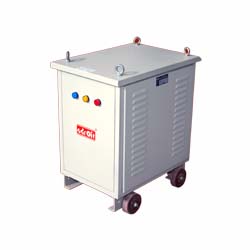 We are the manufacturer and supplier of isolation transformers, electrical transformers, power transformers, ideal transformers, electrical distribution transformer, power distribution transformer and electric power transformers. Our range of isolation transformers are available with following features & specifications